When it comes to health insurance, you may already have your coverage sorted through your employer's benefits. However, have you considered the well-being of your parents? As responsible individuals, we understand the importance of taking care of our loved ones, especially as they age. That's why we are thrilled to announce our partnership with TPL Insurance to introduce an exclusive Parent's Health Insurance cover, designed specifically for SmartBenefits users like you.
Caring for Your Parents Made Easy
At SmartBenefits, we believe in offering comprehensive and affordable solutions that cater to your unique needs. Our Parent's Health Insurance plans are crafted with the same ethos, ensuring that your parents receive the care they deserve, without any financial burden on your end. Let's explore the key features of our Parent's Health Insurance:
1. Flexible Plans
We understand that every family's requirements differ. To accommodate these diverse needs, we offer two coverage plans: Rs. 300,000 and Rs. 500,000. You can choose the one that best suits your parents' health requirements and provides them with adequate coverage for medical expenses.
2. Age-Inclusive
Age should never be a barrier to receiving quality healthcare. Our Parent's Health Insurance plans can be purchased for parents up to the age of 75. This ensures that they can avail necessary medical treatments and attention throughout their lives, offering you peace of mind and comfort.
3. Comprehensive Coverage
Our Parent's Health Insurance plans are designed to provide extensive coverage, ensuring that your parents are protected in times of need. The coverage includes emergency hospitalization, pre-existing conditions, daycare procedures/special investigations, and much more. With such comprehensive protection, you can rest assured that your parents' health is well taken care of.
4. Hassle-Free Cashless Treatment
In emergencies, quick access to medical facilities is crucial. With our Parent's Health Insurance, your parents can avail of cashless treatments in over 300-panel hospitals across Pakistan. This feature not only simplifies the process but also adds a layer of convenience during challenging times.
5. Easy Purchase Process
We understand that life can be hectic, and every moment counts. Hence, we've made the purchase process seamless and straightforward. You can buy the insurance directly through your employee benefits app via IBFT or Credit/Debit card. Within a few minutes, your parents will be covered, ensuring their well-being is just a few taps away.
6. Dedicated Support for All Your Queries
We value your trust and believe in providing the best support possible. If you have any questions or concerns, our dedicated team is here to assist you throughout the process. Whether you need guidance during the enrollment or require assistance during the claim process, we've got you covered.
How to Buy?
Getting your parents covered has never been easier! Just log on to the SmartBenefits app, head over to the "Parents Insurance" section, and follow the simple steps to enroll your parents in health coverage. Within minutes, your loved ones will have access to comprehensive health insurance, ensuring their health and well-being are protected.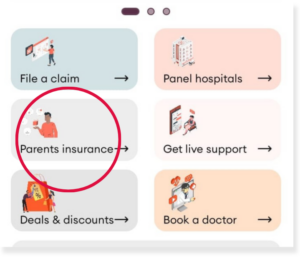 At SmartBenefits, we genuinely care about your family's health and financial security. Our Parent's Health Insurance is a testament to our commitment to providing you with the best solutions for a better future. So, take the step towards securing your parents' health today and experience the peace of mind that comes from knowing they are protected.