Do your employees and managers know the direction in which your company wants to grow? How well do they understand the company's short-term and long terms goals?
According to researchers, less than 20% of a business's employees are aware of their company's strategy and long-term goals. This means that over 80% of a business's workforce is working blindly with no idea of how they are contributing to their workplace's goals.
Such lack of awareness makes it necessary to push for collaborative goalsetting. It should be a part of corporate culture to let employees know which direction their place of work is heading towards and why.
As a manager, when you assess your organization, can you claim that your teams know what you want to do next? If not, a structured and collaborative goal-setting process should help.
Defining Collaborative Goalsetting
Collaborative goal setting is a planning strategy to determine and set goals as a group. This usually includes setting personal and company targets, assigning available resources and assessing goal performance over time.
The exercise pushes employees towards an active role in contributing and bearing responsibility for achieving the company's goals, which ultimately increases employee engagement and commitment.
This process is a change from the traditional top-down management process where managers determine employee goals and responsibilities. In a collaborative goal-setting exercise, observations, discussions, prioritization and evaluation of goals occur. Both employees and managers participate and set goals. When done right, it can allow employees to feel included in the organization's success. 
Importance of Collaborative Goal Setting
Setting goals through a collaborative process helps improve employee motivation and performance. This ultimately helps the company perform better. The mix of an agreed-upon goal that leads up to a companywide objective helps to make employees work more effectively. 
Advantages of Collaborative Goal Setting
Collaborative goal setting develops better links or bonding between employees and their place of work. It promotes the company's goals while supporting employees in their career growth.
Setting collective goals through a collaborative process should ideally improve the flow of information between employees and their managers. When done well, it also guarantees that employees' concerns are heard and considered. A collaborative goal-setting approach lets employees feel a sense of ownership over their work, which is key for employee engagement and long-lasting motivation.
How to go About Setting Collaborative Goals
The best way to start a collaborative process is to start small. It doesn't need to be applied by the entire organization. You can try it out in smaller departments or in more (or less) problematic departments and see how it works out. 
The goal-setting process can also start from the top line of managers. Trying a collaborative process with the key executives may help, but the full results will only be realized when the top to bottom of a department or team is involved. 
A collaborative goal-setting exercise involves employees and managers discussing personal and company goals, listening to each other, and eventually agreeing on their goals as a team. 
Here are some tips for setting collective goals:
Link employees' personal goals to business objectives. Personal career goals become more meaningful when linked to the larger business goals.
Avoid micro-managing! Personal goal setting is always better when employees get to contribute and have ownership of their personal goals.
Regular communication is key for ensuring collaborative goals progress as expected. Feedback through one-on-one meetings is easy and an accessible strategy to maintain good communication between employees and managers.
Areas in which Collaborative goal setting is Successful
Collaboration in any area of work lets team members feels a sense of belonging as they work to attain common goals. It can build purpose and motivation for your team and engagement among employees. 
Cross-Functional Projects
If your business regularly runs into delays because work never seems to move seamlessly from department to department, it may be time to try out collaborative work models.
Sit with your staff and identify areas where delays usually occur in projects. Once these are identified, have an inter-departmental meeting to discuss findings and how they link with other departments' performance.
Productivity
Increasing productivity is possible when every team member does their best and helps colleagues to do the same. Try using time tracking tools to see how team members use their time at work.
You could then use this information to identify issues. For instance, if a staff member stays on call to resolve accounting errors, the accounting department can be asked to ensure no more than 10% errors. This improves accounting accuracy while freeing up your staff member.
Clear Communication is Key
If one skill is prioritized for all employees, it should be communication. Clear messaging helps cross-team collaboration. Communication is the key to linking teams together. If a team member can't share their opinions, concerns, and suggestions in a group meeting, the process can become void, and the purpose of goal setting is lost.
From the outset, make sure every individual that forms part of the team realizes that their contribution is key to the success of everything else. Reinforce the concept that collaboration isn't possible without individual and team effort. Without clear communication and a strong work ethic, you'll struggle to reach the cohesion necessary for effective workplace collaboration.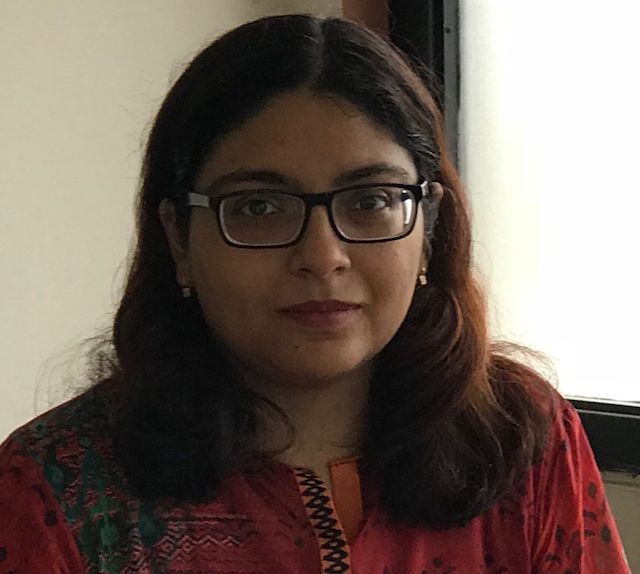 Sadia Zaheer holds a Masters in Business Administration from IBA, Karachi. After working in several financial institutions in Client Management, Corporate Lending, Islamic Banking and Product Management she jumped careers to pursue a career in writing.
She is a Finance, Business and HR Development writer with four years of experience. She reads a lot and takes care of her multiple cats to remain calm.